Standout and Create Deals with Agencies
Introduction to Standing Out in the Federal Market
Differentiation and Creating Insight to Change Your Client's Status Quo
Private Webinar, Onsite Workshop, or Online Course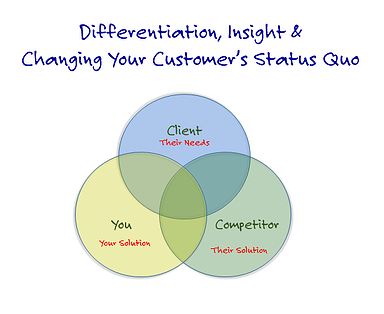 Learning how to stand out from the competition is essential in a competitive market like the federal market. Too many government contractors passively wait for RFPs and opportunities to come their way. The key to success is to take action to stand out from the crowd and proactively create deals with agencies.
Far too many firms fall short because their marketing messages fail to differentiate and their sales messaging fails to articulate value.
Why does this happen? Most firms fail because they:
Misunderstand what a unique value proposition is
Don't know how to identify their company's true differentiators
Fail to provide insight into agency challenges, and therefore never get noticed
Are unable to define problems appropriately nor create a sense of urgency to solve the problem
Wait to receive RFPs instead of collaborating and partnering with agencies early on to create deals.
Do not collaborate with agencies and therefore do not create deals
What not to do...
For this reason, most UVPs are crafted using the traditional "let's brainstorm" approach. Your sales, marketing, and business development teams share their perspectives on how the firm stands out from competitors. After a while, some realize that perhaps the firm isn't as distinctive as believed. This viewpoint often leads to resistance, with many asserting, "We are indeed unique!" We...
Hire the best people
Have great clients
Do superior work
These generic attributes often appear in capability statements, brochures, and corporate presentations. The presence of such attributes in sales presentations usually signals an inability to highlight significant differences. Have you endured such presentations, or even more concerning, have you given presentations that begin with these generic slides?
Slide 1 – Here's our founder
Slide 2 – Here's our history
Slide 3 – Here's a map of our office locations;
Slide 4 – Here is our list of services/products
Slide 5 – Here are the logos of a bunch of our customers
Slide 6 – Now that we have bored you, let me ask you 20 questions about your problems
There is a better way to identify your true differentiators, create a meaningful value proposition, and forge new insight that enables you to stand out. Once agencies notice you, your team should work to:
Provide insight into agency problems
Change the agency's perception of the problem
Create a willingness to replace the status quo.
Collaboratively create a deal that creates value for the agency.
The Course
This Standout and Create Deals course will teach you:
A better understanding of the Unique Value Proposition and its three essential attributes.
How to identify meaningful elements of differentiation
How to craft your UVP
To create the insight need to change your client's understanding of their problems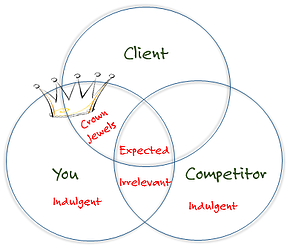 How to develop thought-provoking insight that will:
attract more agencies,
get you involved in the federal buying process much earlier, and
challenge the agency's status quo and drive them to action.
Topics
Who are your real competitors
Why agency buyers don't buy from you
Meaningful elements of differentiation
Eliminating expected and indulgent elements of differentiation
Creating insight that forces change in the target agency
Dealing with perceived value vs. true value
Workshop - Contact Us
Please contact us and describe your current challenges in differentiating, getting noticed, and your experience in creating deals with agencies. We can provide a workshop that will identify meaningful differentiators and teach your team to incorporate this into marketing collaterals, inbound campaigns, and sales messaging.