More about the Option to Renew & GSA Contract Extensions
Renewing your GSA Contract
A GSA contract comes with an initial 5-year base period and three 5-year option periods for a total of 20 years.
As the contract approaches the end of each period, GSA offers you the opportunity to extend your GSA contract for another five years. GSA refers to this as an option to renew or an option to extend your contract.
GSA does not automatically extend your contract; you must take this renewal process seriously.
When does the GSA Renewal Process Start?
It's not when you think!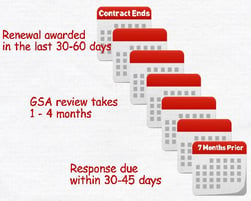 Most vendors believe that the process starts seven (7) months before the contract end date when GSA sends an email asking the contractor f it would like to extend your contract.
However, did you know that it begins 40 days before that date? That is when GSA begins its internal review to see if sufficient sales and contract compliance warrants are moving ahead.
Too many vendors are surprised to learn too late that there will be no renewal.
GSA Contract Renewal Process
Many vendors will receive the renewal email, but that does not mean that the renewal is automatic. GSA asks for a formal letter addressing certain issues and submitting various documents:
latest pricing,
commercial sales practices and
related certifications and representations.
Your situation may also require you to address the following matters:
Explanation of Prior Audit deficiencies
Lack of sufficient sales
Financial Review
New past performance evaluation
Commercial sales practices disclosures
Small business size recertification
Trade Agreement Act (TAA) compliance
Not as Simple as You Might Think
While the volume of information is not as extensive as when you first applied for the contract, the requirements can be significant.
Some GSA acquisition centers require less information upfront when you seek your renewal but a lot more information during their review, especially if there have been contracting issues or if the pricing no longer appears to be quite as fair and reasonable as it once was.
Other acquisition centers, such as the Information Technology and Professional Services groups, have begun asking for more information when you seek renewal.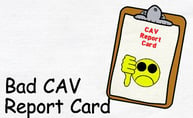 Many businesses tend to underestimate the seriousness of GSA contract issues, only to find out too late that the issues are far more significant. Contractors are advised not to take this renewal process lightly. Make sure you adequately prepare for your GSA contract renewal!
When Should I Start my GSA Renewal?
While GSA may contact you about seven months beforehand, TurboGSA recommends that you begin preparation one year before your contract expires.
Starting then will give you ample time to:

Why Wouldn't GSA Renew my Contract?
If you are a good contractor under the GSA schedule program, then you should not fear this renewal process. However, you should not take it for granted. GSA is tougher than ever with renewals.
Some of the more common reasons for GSA not renewing a GSA contract include:
Lack of GSA Sales - GSA will probably not renew if your contract has not generated an average of $25,000 per year.
Low sales on a competitive SIN - Even if you generate sales, you could have your contract canceled if your sales are low compared to many other contractors making greater sales.
Assessment Report Card Deficiencies

- If you have had bad reports and not remedied the problems promptly, GSA may not renew.

Agency complaints

- If doing business with your firm has become difficult and the CO has received complaints, GSA may not exercise the renewal.

Changes to your Commercial Sales Practices (CSP)

- If your CSP has changed dramatically, it may affect how GSA views your contract. Presenting CSP information carefully is essential.
These are just a few common problems preventing contracts from being renewed.