Obtain a GSA Schedule Contract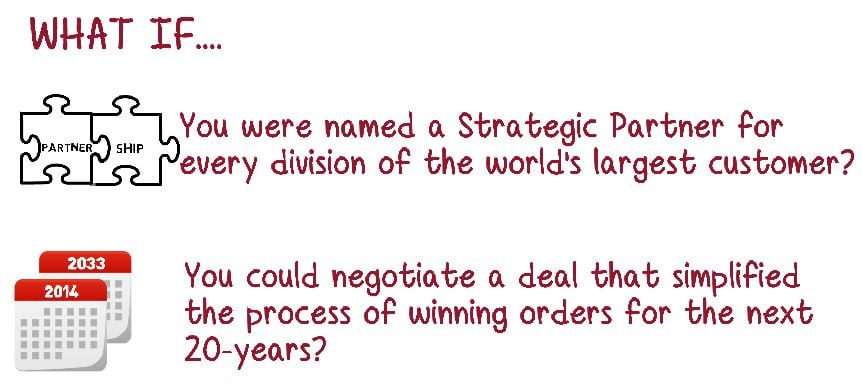 Your Opportunity
Finding and bidding on federal contract opportunities in the open market is difficult for most firms.
That is where the GSA's Multiple Awards Schedule program comes into play. A GSA contract (or VA Contract for medical items) makes players out of spectators! Companies that win this contract and learn how to use it derive significant value.
As the world's largest customer, the U.S. Federal government bought more than $50 billion in products and services from GSA and VA Schedule vendors. Moreover, it is not only for large firms; one-third of GSA sales went to small businesses.
You do not want to continue being on the outside looking in. How long will you wait? Being a player in the federal market assures you of a large, stable customer who spends a lot of money even during austere times.
What if You could…
Access exclusive opportunities only found in GSA's eBuy system? Only GSA contractors can see these opportunities.
Close deals quicker and shorten sales cycles? GSA contractors receive orders in 15 days on average, compared to 265 days for other federal contracts.
Be proactive. A GSA contract allows you to create deals with agencies rather than sitting around waiting for deals fall into your lap. Create your own opportunities!
Enjoy the prestige that a GSA contract bestows? Many contractors say their contract enhances their positioning in the commercial market.
Your Challenge

You know you have better solutions than many of the firms that currently sell to federal agencies. So what's holding you back from pursuing this lucrative market?

Maybe it is because the process of getting the contract is too cumbersome.

Perhaps you think it takes too much staff time?

Maybe it is because you know your team lacks an understanding of the complicated GSA solicitation.

Your Risk

Overcoming these challenges takes effort, and you want to avoid being one of the 60% of proposals GSA rejects.

You might be in a weaker position when dealing with government contracting officials because you lack experience with GSA programs.

You must negotiate a profitable and compliant contract that won't expose you to audit problems years later.

You need a strategy to ensure success after the contract award.

The Solution

TurboGSA helps your firm through the entire process. We handle the time-consuming tasks, minimizing interference with your current operations.

You will master GSA contract requirements and how to use your contract to build a base of Federal business.

You do not need to worry about bureaucratic sluggishness, mistakes, and roadblocks. TurboGSA has seen it all before, and we speak GSA's language.

You receive help in defining your value proposition, identifying customers, and developing your marketing strategy.

The TurboGSA Difference

TurboGSA provides an efficient proposal development process combined with veteran advisors to ensure you win a contract.

You spend less time acquiring a contract because TurboGSA has the most efficient process for preparing your GSA proposal.
You receive unlimited consulting from TurboGSA's senior, expert advisors who are dedicated to your account to assist you throughout the process.
You reap the benefits of TurboGSA's expert advisors, who have years of federal business development experience.
You want to work with a reputable firm. TurboGSA has been in business since 1998, enjoys a stellar reputation for providing ethical and quality services, and maintains a Better Business Bureau A+ rating.
You want a staunch ally. TurboGSA serves as your reliable partner and advocates so that contracting officials don't take advantage of your inexperience.
What's in it for you?
You receive a lucrative GSA contract that is well crafted, compliant, and audit-proof, enabling your firm to win tens, thousands, or millions of contract dollars.
You receive training on how to manage and market your contract that goes well beyond the basics, focusing on the real-world challenges that GSA contractors face.
TurboGSA will be around to support your needs in the years to come.