Getting on the GSA Schedule
Who Should Get a GSA Schedule Contract
A GSA Contract is ideal if want government business but do not want to respond to time-consuming, costly RFPs and RFQs. Once you obtain a contract, the process for receiving orders is far simpler than a traditional RFP.
A GSA Schedule is all about opportunity. It provides businesses a license to sell to any Federal agency. Since all terms and conditions are pre-negotiated, traditional contractual roadblocks no longer stand in the way of closing deals.
Beneficiaries include firms from all industries offering commercial products and services, including:
Large and small businesses
Commercial products manufacturers and resellers
Consulting firms
Professional Service firms
How to Get on the GSA Schedule?
The four phases of the process for getting on a GSA Schedule.
Phase 1 - GSA Proposal Preparation & Submission:
First, you prepare a GSA proposal based on the specific GSA schedule's solicitation and then submit it to GSA via GSA's eOffer system.
Phase 2 - GSA Review & Contract Negotiation:
GSA carefully performs its due diligence and reviews the proposal to determine if your firm is a Responsible Vendor. GSA then evaluates the offered pricing and tries to negotiate better terms. Once the negotiation is complete, GSA awards the contract. Phase 2 can take 4-12 months these days, although TurboGSA's efficiency can speed this up.
Phase 3 - GSA Contract Award and Startup:
The initial steps you should take after receiving a GSA contract include:
registering the contract,
uploading the price list and catalog to GSA Advantage, and
setting up your profile in eBuy.
Phase 4 - Ongoing GSA Contract Management and Marketing:
This stage involves the long term care and marketing of the GSA contract. Whenever you want to change pricing or add or delete products or services, you must prepare a contract modification request for approval. Contract administrators must work with sales and marketing to ensure everybody is compliance with contract terms. Sales and marketing personnel must understand how to use the schedule so that your firm reaps all the benefits a GSA contract offers.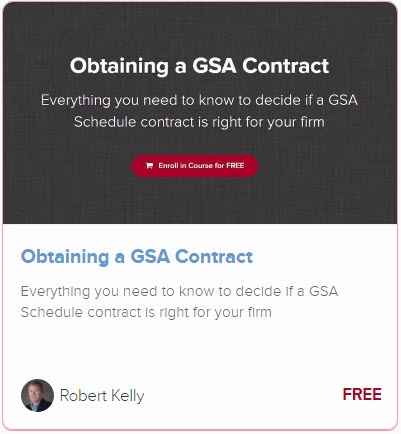 How can TurboGSA help you get a GSA Schedule
TurboGSA offers several free resources to help you decide if you should move forward with obtaining a GSA contract:
Download the free EBook: GSA Schedules-A Very Short Introduction, which helps you understand GSA Schedule and determine if your firm qualifies for a GSA Schedule.
Download our free EBook,Getting a GSA Contract: DIY or Retain Expert Help, to help you decide if you should try to get a GSA contract done on your own or if you should hire an expert GSA consultant.
Attend our free online course How to Obtain a GSA Contract, with live question and answer period.
See our new infographic, "How to Get a GSA Contract" which is a useful tool to understand what GSA contracts are all about.
Review lots of other facts and tips about Winning a GSA contract(or see Learn More menu above).
Look at our Infographic depicting all GSA Schedules by Type
Or call us to discuss your needs and concerns - 866-291-5238.
Why Get a GSA Contract?
You should consider getting into the GSA Schedule program since it:
Helps avoid open competitions on FedBizOpps

Simplifies proposal writing on each federal opportunity

Minimizes complex Federal contracting issues

Provides marketing cachet and GSA "stamp of approval."

Shortens the time for Agencies to issue contracts to you (about 15 days compared to 268 days for conventional Federal contracts).

Is a contracting vehicle of choice for procurement officers.

Allows you to sell to state and local governments under some circumstances.

GSA marketing support (free advertising in GSA's magazine, listing in GSA Advantage, and exposure to multiple government procurement sites).