So you are thinking about getting a GSA contract for your firm, but which schedule do your products or services fall under? The GSA Schedules program covers millions of products and services so it's no wonder you may be confused. We've produced a mindmap infographic that depicts the list of GSA schedules visually. It partitions the schedules into some logical groupings:
GSA Products,
GSA Services,
Special GSA Schedules, and
VA Schedules for medical products and services.
The GSA Schedule mindmap infographic further divides the schedules into logical sub groupings. This can be useful for visualizing where your offerings might fit. And we have produced this in a PDF so that you can discuss this with your boss or colleagues. Feel free download this and our other free tools to help you decide if a GSA contract would be beneficial to your firm.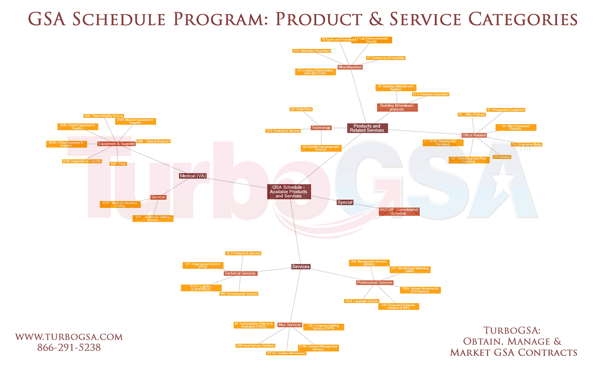 Which GSA Schedule is Best?
Sometimes more than one schedule is possible. For example, if your firm offers diverse professional services such as engineering and environmental, then you may need to be listed on more than one schedule (Schedule 871 and Schedule 899 respectively). Or you may offer a variety of products that may fit on more than one schedule. For example, firms selling audio/visual products may want to be listed under both the A/V Schedule 58 I as well as GSA Schedule 70.
A general rule of thumb, especially for small firms with limited experience in the federal market, would be to choose a single schedule that covers most of your needs at first. Then after you have gotten your feet wet and built up capabilities, you can expand into other schedules to fully exploit all the opportunities available in this vast market. Too confusing? Sign up for a brief, free consultation and we'll help.
TurboGSA's free consultation helps you determine which schedule would be the best fit. We'll also give you the straight scoop on whether or not obtaining a GSA contract would actually be worthwhile.