Interested in selling to the government, but not sure a General Services Administration (GSA) Schedule Contract is worth the cost and effort? Consider the facts: Federal Agencies prefer to buy from GSA Schedules, GSA Schedule sales exceeded $38.8 billion in the 2010 fiscal year, and a Schedule Contracts is potentially a 20 year contract with the world's largest client. So, while it is possible for your firm to sell its product or service to the U.S. government without getting on a GSA Schedule Contract, it certainly isn't advisable in most cases. A GSA Schedule Contract can quite literally take your firm's government business to the next level.
The GSA Schedule Contract program is known by many names (including GSA Schedule, GSA Contract, Federal Supply Schedule, MAS, GSA Listing, GSA Number, etc.) but no matter which moniker is applied, it is the contracting vehicle of choice for procurement officers in any Federal agency.
What do I gain by having a GSA Contract?
A Schedule Contract is a 5-year contract that includes three 5-year option periods. It is a government wide contract, meaning you can sell under the agreed upon terms to any Federal Agency as well as some related organizations. This provides some of the principle advantages of the Schedule Contract. Without one your firm will need to bid on and negotiate each time it contracts with a new entity. Not only will this conventional contracting process take about 268 days to complete, but it can eliminate sales opportunities all together. Remember, government procurement and contracting officers dislike long, tedious processes as much as you do. If given the opportunity, they will choose to contract with a firm on a GSA schedule.
Firms on GSA Schedule Contracts are listed on GSA eLibrary for all government purchasers to find. Scheduled Firms also have access to GSA eBuy. These powerful tools help put Scheduled firms well ahead of the competition in terms of marketing. Once a Federal agency finds a Schedule Contract holder selling the product or service they need, the agency can issue a contract in about 15 days. It is this combination of exposure and preference that makes a GSA Schedule Contract invaluable.
Thanks for reporting a problem. We'll attach technical data about this session to help us figure out the issue. Which of these best describes the problem?
Any other details or context?
message
The GSA Schedule Contracts program is the government's most efficient means of purchasing. The complex terms and conditions inherent to government contracts are pre-negotiated, allowing both parties to focus on the more important post-contracting phases of the business relationship. Furthermore, a GSA Schedule Contract allows you to apply your standard commercial marketing practices in the Federal market. The conventional process of bidding on every new contract with each entity forces your firm to compete on price each time, which we all know can be a hard way to maximize profit. As the price and other terms are fixed in Schedule Contracts, you are free to focus your marketing efforts on the merits of your product rather than the lowest quote.
GSA Advantages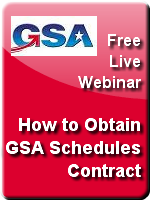 In sum, GSA Schedule Contracts are advantageous to both parties in the government contracting process. Federal contracting officers prefer contracting with Scheduled firms because it is the most efficient means of obtaining the products and services that keep our country's government operating. Businesses who sell to the government are best served by GSA Schedule Contracts because, simply put, they maximize federal business opportunities like no other contract type can.
To learn how to get a GSA Schedule Contract, and turn the largest client in the world into one of your business's best customers, please register for our free, live webinar, "How to Obtain a GSA Schedules Contract." For 90 minutes our Principal Consultant will discuss and field questions on the specific process that can help your firm stop bidding, and start selling..