Small Business Marketing Ideas
Government marketing involves many things, and meeting face to face with agency personnel is always a good idea. Federal agencies often sponsor and participate in events that enable them to meet with small busiensses and prime contractors. Various agency OSDBU's (i.e., small business offices) have already planned to attend several evnts in 2011.
Interactive Timeline
TurboGSA has prepared an interactive timeline presenting several 2011 government marketing events, many of which are sponsored by Federal agencies. These events provide opportunities to meet with Federal agencies and often include matchmaking sessions to make agencies aware of your products and services. Other training events and marketing tips are also included.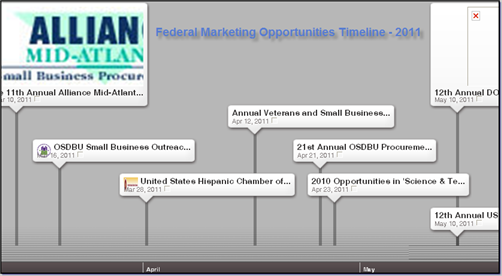 Review this while preparing your 2011 Federal markting action plan, consider attending a few of these events. It is one of the best small business marketing ideas you can implement this year.