A Quality GSA Schedule Proposal is Essential
A computer hardware distributor recently settled a charge with the Government that it had overcharged on its GSA Schedule contract. The firm was facing a federal false claims lawsuit by the Department of Justice for failing to provide the government with the best possible price on a hardware contract it signed with GSA in 2000.
The government claimed that the firm did not provide GSA with current, accurate and complete information regarding its commercial sales practices, including discounts for nongovernmental customers, when it submitted its GSA proposal. Properly disclosing a firm's commercial pricing policies and practices is an essential element of a GSA proposal and a key tenet of the GSA Multiple Awards Schedule contract.
Price Reduction Clause
The investigation of the firm was initiated by GSA's Inspector General based on allegations that the firm was providing better discounts to its other customers, in violation of the price reduction clause of its GSA contract. The clause requires companies to give the government at least as good of a price as its best commercial customer for contracts of similar size, terms and conditions. All discounting practices must be disclosed prior to contract award so that GSA can negotiate a proper contract based on the FAR. If a firm does not disclose everything properly then trouble awaits. This does not mean that GSA will always insist on the best price (the case of a manufacturer selling to distributors at a steep discount is often a case in point), but GSA must receive all your discounting information prior to negotiations.
Trade Agreement Act Compliance
Another part of the settlement entailed a violation of the Trade Agreement Act. The company was accused of violating the TAA by selling products made in China. The TAA precludes companies from selling products manufactured in certain nations without a trade agreement with the U.S.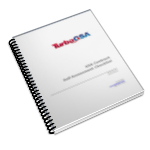 The lesson to be learned from this case is that preparing a GSA proposal for a GSA contract is serious business with consequences. It is not a simple proposal writing exercise. Therefore, if you choose to work with a consultant, make sure the firm you choose is reputable and will assign senior experts that can work through these issues with you. Working with a proposal mill or using "model" proposals should be avoided. Our GSA Contract Checklist contains additional tips on selecting an ethical and responsible consultant.
Firms that already have a GSA schedule contract are advised to review their terms and conditions and assess whether they are in compliance and prepared for audits (Contractor Assistance Visits). TurboGSA's "
Avoiding GSA Contract Audit Problems
" webinar is a good first step.