For years government contractors have been using traditional marketing techniques to gain the attention of Federal clients. Email blasts, direct mail, conferences and exhibitions, brochures, advertising have all been used to varying degrees of effectiveness. But about ten years ago, the effectiveness of these traditional methods began to decline. And in the past few years, their effectiveness has declined precipitously. But what has caused this decline?
Decline of Traditional Marketing Approaches
As described in Six Reasons why Traditional Federal Marketing is Losing Effectiveness, Federal employees that you need to reach – program managers, end users, purchasing officials - have been inundated with marketing interruptions, to the point where they had to do something or risk impairing job performance. Like many business people, they constructed defenses such as employing junk mail filters to prevent spam and caller ID to weed out calls from unknown persons. They avoid advertising by using RSS readers. And budget constraints have limited participation in trade shows and conferences. So do Federal employees no longer take time to learn about possible solutions to their agency's problems and mission? Of course not, they just have taken control about how they learn about such solutions.
Where Feds Look for You
The General Services Administration has identified the sources that Federal employees access to learn about GSA listed products and services, and found something very interesting:
GSA Resources – 13%
GSA Contractor provided info– 8%
Traditional email, publications and related – 4%
Online Resources – 75%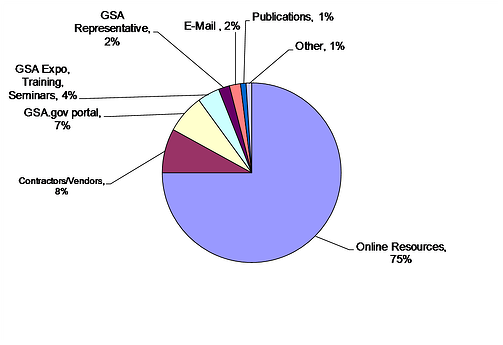 Federal Inbound Marketing is the Answer
This clearly indicates that now more than ever, GSA contractors must do a better job being found online. Federal Inbound Marketing is a systematic, measureable process to get found and generate leads and therefore, must be a strategic imperative. If your firm currently spends money on traditional marketing programs, now is the time to reallocate resources to inbound marketing to attract Federal clients. If your firm that has not spent much on traditional marketing but needs to generate more federal leads, Federal Inbound Marketing is the ideal solution. Plus for firms with smaller marketing budgets, Federal Inbound Marketing enables you to compete, because success is based on the quality of your ideas and content rather than dollars spent on advertising.
You should explore the benefits of Federal Inbound Marketing. TurboGSA specializes in applying Inbound Marketing to the Federal market so that clients can vastly expand their Federal presence. We provide a free assessment of your marketing goals and whether our Federal inbound marketing program will work for you.