Which of the GSA Schedules is best for your firm?
GSA has about 33 different GSA Schedules that have over 30million products and services. Usually the choice is pretty simple. If you sell engineering services, you would pursue the Schedule 00CORP - the Professional Services Schedule (which absorbed many services schedules including the old Engineering Service Schedule (871)). If you are a hardware store, you would choose the Hardware Superstore schedule (Schedule 51 V).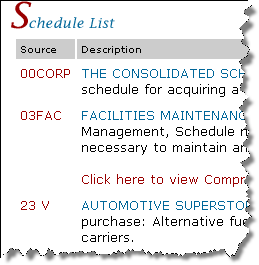 Sometimes it is not so obvious and more than likely, your products or services could fit under any number of GSA Schedules. You should try to choose the GSA Schedule that best meets your business objectives. You can always obtain additional GSA contracts down the road to broaden your opportunities, but usually it makes the most sense to pursue the top one or two GSA schedules initially and add more later.
So how do you choose? We suggest you consider the following methods to determine the best GSA schedule to pursue.
If a current Federal client asked you to get on a GSA Schedule, then they probably told you which schedule they thought would work best. It is always best to confirm this independently but often what they say is correct.
Look at which of the GSA Schedules your competitors are on and then pursue those. Congregating where your competitors are may lead to more opportunities (similar logic as to why auto dealers and fast food restaurants cluster near each other).
Go to GSA eLibrary and type in a few of your product keywords or service names. Use the generic version of the name rather than your trade name. For example, if you sell video projectors, type in video projectors rather than a specific brand so that you do not narrow the results too much. If you sell leadership development training type that in the search box and it will show you where those appear (hint: MOBIS Schedule 874).
Contact us – we would be happy to give you our suggestions and reasons why. This is a no obligation service so feel free to complete this form and we will get back to you with advice.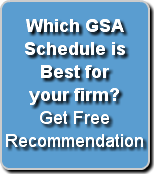 Selecting the right schedule is an important early step, so choose carefully.