In a recent conversation, a GSA employee described the Federal Acquisition Regulation, or the FAR, as the government contracting officer's Bible. While this statement was surely hyperbole, the importance of the FAR in both the theoretical understanding and practical applications of federal contracting cannot be overestimated. The FAR is in essence the set of rules under which federal contracting officers and federal contractors conduct their respective business.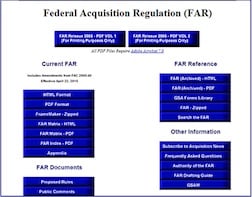 The FAR is a system of regulations jointly issued by the Department of Defense, the GSA, and NASA designed to standardize the rules and procedures by which all Federal Executive Agencies acquire supplies and services using appropriated funds. Since its implementation in 1984, the FAR has been regulating all three phases of the federal acquisition process: 1) need recognition and acquisition planning, 2) contract formation, and 3) contract administration.
In terms of structure, the FAR is described in 53 parts, which generally relate to one of the 3 phases. These parts are organized into the following 8 subchapters:
Subchapter A – General (parts 1-4)

Subchapter B – Competition and Acquisition Planning (parts 5-12)

Subchapter C – Contracting Methods and Contract Types (parts 13-18)

Subchapter D – Socioeconomic Programs (parts 19-26)

Subchapter E – General Contracting Requirements (parts 27-33)

Subchapter F – Special Categories of Contracting (parts 34-41)

Subchapter G – Contract Management (parts 42-51)

Subchapter H – Clauses and Forms (parts 52 & 53)
Subchapter B describes the regulations specific to Phase 1, while Subchapters C, D, E, and F relate to Phase 2, and Subchapter G pertains to Phase 3 of the federal acquisition process. Subchapter A provides context and Subchapter H provides both contracting forms and specific clauses and provisions relating to specific classes of contracts. Of particular interest to many of our Blog readers is Subchapter D, which provides regulations for many of the small business and minority-owned business contracting set-aside programs we have discussed over the past few months.
As a contractor it is important to understand some of the basics of the FAR. While the rulings contained in the FAR generally regulate the conduct of the contracting officer, and not the contractor, a general understanding of the FAR and how it is organized can help you quickly find the rules you need to research, should a problem arise. To view the most current Federal Acquisition Regulation in .html form, follow the link. As always, if you have any questions about the FAR and how it affects your federal contracts, please contact us.