Your GSA Advantage Catalog is a Resource - Make it Work for You
A vendor's GSA catalog is an online resource found on GSA Advantage, which is GSA's online ecommerce system. The GSAAdvantage! system contains GSA vendor information and enables Federal agencies to research products and pricing as well as place orders or issue RFQ's in the system's eBuy section.
When done well, your listing enhances your market exposure to government agencies and can increase sales to federal agencies worldwide. Government customers educate themselves about GSA vendors and approved products and services using the system so it is advisable that you take steps to improve your GSA Catalog.

For example, hardware firms may post its GSA tools catalog, while IT firms may post an IT equipment catalog. Service firms may post their pricing along with a federal capabilities statement.
Regardless of whether your company sells products or provides technical or professional services, your GSA catalog is an important part of your government marketing program.
What is a GSA catalog?
Your GSA supply catalog really has two parts:
the terms and conditions document, commonly referred to as your text file or GSA pricelist, is found both on GSA eLibrary and GSA advantage, and
the product catalog, which is found on GSA advantage and displays your products, courses or services.
While some may disagree about the relative importance of a GSA catalog in terms of its effect on selling to the government, you should take advantage of any opportunities your GSA catalog might present by maximizing the catalog as a selling tool. Here are four things you can do to improve you GSA catalog:
Go beyond What's Required in the GSA Text Catalog
Most text catalogs are pretty dry, containing the data elements required by contract clause I-FSS-600 Contract Price Lists. Service firms also list their labor categories and perhaps service descriptions.
Why not take advantage of this tool by providing government-specific information about your firm's:
value proposition,
key differentiators, and
the benefits you can deliver your federal clients.
You might provide links to interesting white papers or articles on your web site. Just remember to focus this information on solving the Agencies problems rather than talking too much about product features and your company.
Use Graphics in your GSA Product Catalog
If a picture is worth a thousand words, a good photo can augment the 1000 character limit on product descriptions. Even better, you can now include up to four photos per product listing allowing you to show different views and angles or show available options and accessories. Your product photos should be lit properly and clear.
The photos should show the entire product and take up most of the photo area (avoid a lot of blank space). Photos should be in JPG or GIF format, no larger than 1MB, and be at least 500x500 pixels (but it is recommend catalog photos be at least 800x800 pixels to help with viewing product details).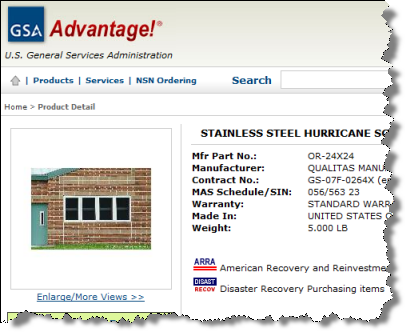 Use Photos or Graphics in your GAS Advantage Catalog
Why limit graphics to just the product catalog. Enhancing the text catalog with photos or graphics that depict your service allows you to convey a lot of information very quickly. And product companies could consider inserting additional product views or diagrams in the text catalog.
Use Keywords in Product Titles and Descriptions
Your ability to optimize product descriptions in your GSA catalog is considerably limited due to the limitations of GSA Advantage; it's no Google! You can, however, use important key words in both your product titles and product description, which should help in getting found when agencies do searches. This will help buyers find you when searching on keywords you have predicted.
Selling to the government takes more than just a good GSA catalog, but given the amount of competition GSA vendors' face, they should take advantage of every opportunity and make these straightforward steps to improve their GSA catalog.