Last Friday (06/24/11), the Small Business Administration released its 2010 report card on the amount of government contracts going to small business. The annual Scorecard measures how well federal agencies achieve their small business and socio-economic prime contracting and subcontracting goals. Almost $100 billion in government contracts went to small businesses which was 22.7% of all federal contracting dollars, just shy of the government's goal of 23%. Overall, the federal government got a B. SBA gave out 13 As, 5 Bs, 4 Cs and 2 Ds to the agencies.
The prime and subcontracting component goals include goals for small businesses, small businesses owned by women, small disadvantaged businesses, service-disabled veteran-owned small businesses, and small businesses located in Historically Underutilized Business Zones (HUBZones).
Each agency's overall grade will show an A+ for agencies that meet or exceed 120 percent of their government contracting goals, an A for those between 100 percent and 119 percent, a B for 90 to 99 percent, a C for 80 to 89 percent, a D for 70 to 79 percent and an F for less than 70 percent. An agency's overall grade was comprised of three quantitative measures: prime contracts (80 percent), subcontracts (10 percent) and its progress plan for meeting goals (10 percent).
That was Then, this is now
So how are agencies doing so far this year? Well with Congress never ending ability to not pass a budge on time, agency spending plans were in a state of flux for some time. That aside, Agency small business goals a falling short so far in:
overall small business contracting (18% vs. goal of 23%),

Women Owned SB (3% vs. goal of 5%),

Service-Disabled Veteran Owned Business (2% vs. goal of 3%) and

HUBZone SB (1.5% vs. goal of 3%).
Small Business Marketing Ideas
See Which agencies are Falling Short
If you are marketing to an agency, it never hurts to understand where an agency may be behind and suggest that contracting with your firm will help achieve their goals. While the end users and program managers may not be as sensitive to this as the contract specialists, letting them both know that contracting with you is good for their agency. This factor alone is not enough to win a particular job, obviously, but it can be a differentiator.
Data.gov has data on which agencies are falling short.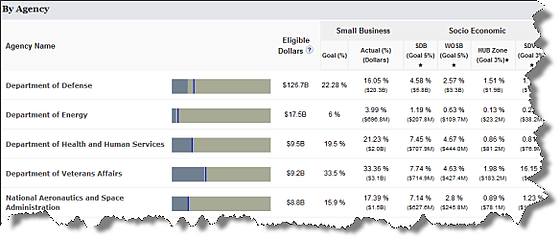 As we approach the end of the fiscal year, hopefully you have implemented a campaign to take advantage of the Federal buying season (August - September). if not, it's not too late to take these basic government marketing steps:
Selling Products to the Government
Consider running end of year sales so that your products stand out with the "sale" icon on the GSA Advantage product page.

Make sure your GSA Advantage catalog is up to date.

Include more photos of your products in GSA Advantage

Increase your marketing over the next 60 days – such as more mailing and more press releases
Marketing Services to the Government
Revisit old contacts and see if you can shake loose any end of year funds for that project you discussed with the agency. Make them aware of any training programs, assessments or similar services that aren't big ticket items but might put you in a good position for the future.