TurboGSA Publishes New EBook
A GSA schedule contract remains one of the best contracting vehicles for small businesses that want to sell commercial products and services to the federal government. In fact, a recent analysis by TurboGSA; a leading GSA consultant, finds that about $15 billion a year goes directly to small businesses through GSA schedules. Federal agencies are keen to buy from GSA approved vendors because it simplifies the buying process for them and they know that the vendor has been determined to be a credible vendor by GSA. But despite its popularity with agency buyers, there is some confusion in the market about this program and many small businesses still do not understand the basics of getting a GSA contract.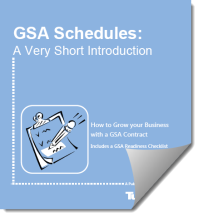 For this reason, TurboGSA recently published a new EBook entitled, "GSA Schedules: A Very Short Introduction." This 18-page EBook is intended to enable business managers to make a sound decision whether or not a GSA contract would benefit their firm. Robert Kelly, Principal Consultant at TurboGSA said, "Many sales managers we speak to intuitively know a GSA contract would help them grow business, but find it difficult convincing other managers to support the effort. This new EBook will be a valuable tool in framing the internal conversation."
The EBook covers all the key topics that business managers must understand:
What is a GSA Schedule Contract
Why Do Agencies love to use GSA Schedules
Who Buy off of GSA Schedules
Primary GSA Benefits for Businesses
Top reasons for getting on GSA
Steps to obtains a contract
And a listing of GSA Schedules by category, along with Sales.
The book also contains checklists that help managers evaluate:
Does a GSA Schedule support the firm's strategy
Whether the firm qualifies for a GSA Contract
If the firm has the appropriate documentation to support its offer to GSA
About TurboGSA - GSA Consultants
TurboGSA is a GSA consultant and federal marketing agency that helps firms transform their business by providing rock solid advice and delivering exceptional services. TurboGSA helps firms obtain GSA contracts that open the doors to federal sales, and implement smart federal marketing strategies that dramatically increase a firm's presence in the Federal market and find government customers.