Buy low, sell high.
Buy on bad news, sell on good news.
Two very old principles of investment. When gloomy times hit and bad news abounds, savvy investors know that it is time to invest. All markets go through cycles, which means they always rebound. Perhaps in a slightly different form, but uncertainty always presents opportunity.
While it may be counter intuitive, does today's federal market present similar opportunities for smart firms currently in, or thinking about entering, the federal market? On the eve of sequestration, some contractors have already announced, or are planning, layoffs. Some larger contractors are divesting themselves of some business units. Firms who obtained GSA contracts a couple of years ago without any real marketing strategy, are being forced out as GSA cancels thousands of non productive contracts.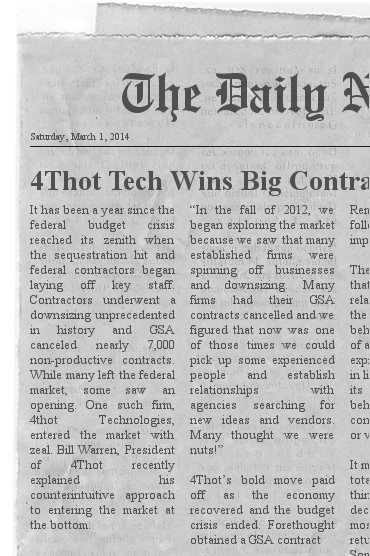 For the savvy contractor, this mean there will be some really good talent available on the market and far fewer competitors cluttering the marketplace and competing for attention. So if you are a firm with real capabilities to solve government problems and are willing to invest for the long haul, today's market is full of opportunities. The pay off may not be for a year or two, but now is the time to start forging ahead. Some points to consider:
Relationship building takes time, so starting today is not too early. And with more talent on the job market who already have relationships with key federal agencies, you can jump start your relationship building with some key hires.
If you offer money saving solutions, get visible now. Let agencies know how investing in your firm will yield savings and benefits that they didn't think possible.
An AMEX study a couple of years ago stated that it takes about 19 months to gain traction and win a federal contract. And currently it takes 6-12 months to win a GSA Schedule contract. So starting today makes sense.
Don't get a GSA Contract simply because you heard from a telemarketer that GSA schedules were great. Take time to learn more about GSA schedule benefits from a reputable GSA consulting firm.
Don't dive in blindly. Many experienced and effective consultants are available to help you plan an effective federal marketing strategy. Experts in federal marketing, GSA schedules, business development, capture management, and proposal management abound – just look in LinkedIn!
Sure, not all vendors will succeed in the federal market. Profits for commodities providers face difficult challenges for federal strategic sourcing programs. But if you sell unique products, complex solutions or professional services, many opportunities will be there. Don't let today's bad news prevent you from making a wise investment in your future.
Text of the above Article above from 2014:
4Thot Tech Wins Big Contract
It has been a year since the federal budget crisis reached its zenith when the sequestration hit and federal contractors began laying off key staff. Contractors underwent a downsizing unprecedented in history and GSA canceled nearly 7,000 non-productive contracts. While many left the federal market, some saw an opening. One such firm, 4thot Technologies, entered the market with zeal. Bill Warren, President of 4Thot recently explained his counterintuitive approach to entering the market at the bottom.
"In the fall of 2012, we began exploring the market because we saw that many established firms were spinning off businesses and downsizing. Many firms had their GSA contracts cancelled and we figured that now was one of those times we could pick up some experienced people and establish relationships with agencies searching for new ideas and vendors. Many thought we were nuts!"
4Thot's bold move paid off as the economy recovered and the budget crisis resolved itself. Forethought obtained a GSA contract, began relationship building, and was able to establish a couple of strategic wins in just 12 months, far shorter than the average 19 months it typically takes to win a significant contract.
Says, Warren, "It's always darkest before dawn, but we knew the federal market would come back quickly and we positioned ourselves to take advantage.