TurboGSA has been analyzing GSA sales information for some time now … trying to better understand which contractors are succeeding, and more importantly, what do differently from those who fail to generate contract revenues. We look for tactics and strategies that work for effective GSA contractors.
Due to the vast diversity of industries, products, services and competitors, this is a challenge to say the least. Strategies and tactics that work for one schedule may not work for others. For example, sales and marketing tactics used to sell products under the Hardware Superstore are quite different than the approach business developers might take in selling management services under MOBIS Schedule 874.
While looking at the data, we wondered how many contractors actually understood how successful they are compared to their competitors. So for this whiteboard, we present GSA contract revenue data in tiers so you might better understand if you were doing well, or if there were opportunities to improve.
In this whiteboard session, we use a sports metaphor of a stadium, and where all the GSA contractors fit inside.
Just to recap, more than 500,000 companies registered to do business with the federal government do NOT have GSA contracts. GSA has negotiated 22,000 contracts with about 18000 firms (some firms possess more than 1)
We decided to segregate the 2013 sales performance of each contract, dividing them into groups based on sales:
Spectator – no sales
Bench player – less than $25,000 in sales (GSA's threshold is $25,000 per year after the first year)
Players – those contracts achieving more than $25,000 is sales. We divide this group into 4 equal tiers
Superstars - the top 1%
GSA Contractors with no Sales - The Spectators
Spectators are firms that decided to get on the GSA, but haven't done anything with it and thus far have not realized any sales. It may come as a surprise that n scheduleearly 8,000 GSA contracts did not produce any sales in 2013. This may be due in part to 2013 budget cuts and sequestration. For some schedules, like Schedule 75 for office supplies, FSSI certainly affected sales. But it appears that overall, it had more to do with new contractors – or rookies - getting their feet wet in the GSA game. It also included other contractors who are still trying to figure out how to develop business using their contract. Unfortunately, many did not commit sufficient resources for marketing and business development.
GSA Contractors with Minimal Sales - Bench Players.
Bench players have sold a little, but didn't quite reached the minimum GSA requirement of $25,000. Similar factors apply here – the bench players need to adjust their business development approach and market to agencies more aggressively.
Spectators and Bench players make up 48% of the total contracts.
Successful GSA Contractors – The Players
Let's do a deeper dive into the 11,407 players who put an effort into marketing and achieved varying levels of success. Rather than just providing an average for all the players, we've divided them into 4 equal tiers.
| | | |
| --- | --- | --- |
| Tier | Sales Range | Average Sales |
| Tier 4 | $25,000 to $102,330 | $64,000 |
| Tier 3 | $102,411 to $342,000 | $222,000 |
| Tier 2 | $341,942 to $1,376,620 | $860,000 |
| Tier 1 | $1,377.858 to $635,473,429 | $11,232,026* |
| | | *Excluding Superstars: $6.5 million |
Tier 4 contracts yield between $25,000 and 102,000 dollars - with an average of $64,000 per contract.
Tier 3 contract sales range from $102 to $342,000, with an average of $222,000 in sales. Not too bad.
Tier 2 contracts average nearly $860,000 dollars. Now we are talking about some serious dough.
At the upper echelons, the Tier 1 contracts average over $11 million. But this is greatly skewed, as sales range from $1.3 million to $635 million. This is because this top tier is home to the sport's superstar - the megatrons of federal contracting. In fact, the top 1%, or 114 players, totaled $14 billion dollars in sales.
If we take these superstars out of the equation, then the remainder of the Tier 1 contracts produced an average of $6.5 million in sales. Not too bad!
Why do some thrive?
What can we conclude from this? First, not every GSA schedules contractor can become a superstar. Matching the sales of the IBMs and Lockheeds of the world is far beyond the reach of the normal player.
But it is clear that spectators can become players, and those in the lower tiers can perform better.
Spectators and Bench Players - Spectators and bench players must master the basics and more importantly…make a commitment to marketing and business development.
Lower Tier Players - Lower tier players must go beyond the basics. They must adopt more innovative approaches to attract and nurture their prospective agency customers. There is also too much emphasis on chasing RFPs rather than creating deals.
Mid-Level Tier Players - What appears to be missing from the mid-level tiers is attention to how they define and portray value to their customers. Too few vendors adequately articulate value and competitive difference, leaving agencies to conclude there is no difference. When there is no substantiated difference, agencies focus on price alone.
Firms also fail to provide compelling reasons or insight as to why agencies must change nor provide convincing evidence that failure to change will be costly to the agency.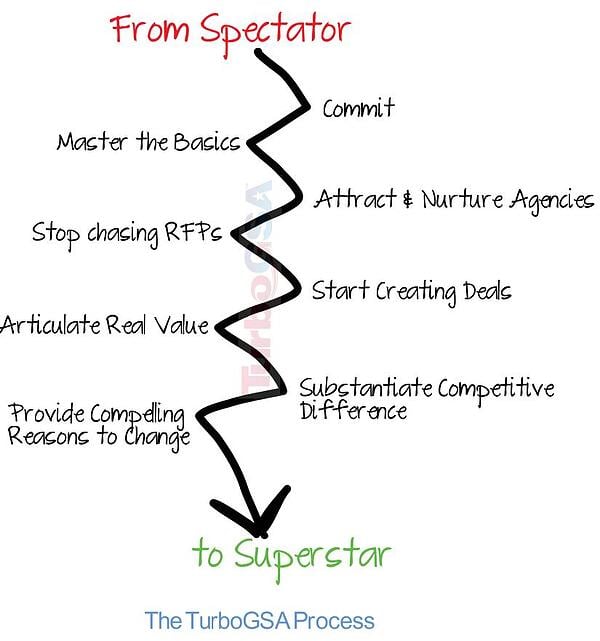 How to Increase GSA Sales?
So where do you sit in the GSA stadium. Are you a Spectator or a bench player? Or are you a player seeking to move up from the lower tiers to Superstar status?
TurboGSA can help you determine where you stand on your GSA Schedule playing field, and show you how to increase your GSA business..