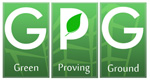 GSA's Green Proving Ground Program Seeks Information from the private sector.
Agency creating registry of innovative technologies and practices.
In pursuit of GSA's goal to reduce its environmental footprint significantly, GSA's Public Building Services (PBS) is seeking to harness the potential of innovative building technologies and operating practices. On a limited and carefully controlled basis PBS will be testing and evaluating technologies and practices in selected buildings in its owned inventory based on program needs. As an initial step, PBS is creating a registry of innovative sustainable building technologies and practices.
Read More