The federal market is huge, and thousands of contracts are issued every year that has a value in the hundreds of billions of dollars. The bid packages used by the government usually contain a set of documents to which a bidder develops a responsive proposal. The four main types of solicitations are:
Request for Quote (RFQ);
Request for Proposal (RFP);
Invitation for Bid (IFB); and,
Source Sought – Request for Information (RFI).
This article explains the solicitation numbering system and discusses each of these solicitation types.
Deciphering the Government Solicitation Number
Every government solicitation is assigned a number that provides some important information.
The first six digits identify the buying agency's ordering office.
The second two digits indicate the fiscal year the contract was issued.
The letter defines the type of solicitation and this is a crucial piece of information.
The last four digits simply identify that specific contract.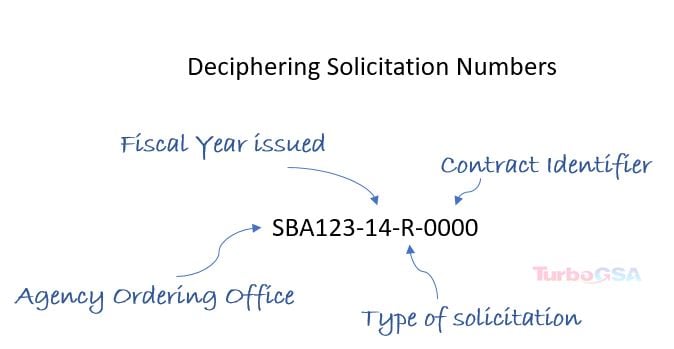 Solicitation Type
The alpha character or code indicates the type of solicitation.
R =r request for proposal,
B = sealed bid (sometimes the letter I is used),
J =reserved,
T = a request for quote for items expected to cost less than $25K, and
Q = a request for quote expected to be under $150k.
RFQ
A Request for Quotation or RFQ is issued by an agency to obtain information and quotations. Agencies typically issue an RFQ when the estimated value of the government's need is expected to be under $150,000 (but not always), and simplified acquisition procedures will apply.
RFP
Request for Proposals, or RFPs, are used to communicate agency requirements to prospective contractors and to solicit proposals. The government will describe its requirements, anticipated terms, and conditions, what information you need to supply and how the agency will evaluate your proposal. An RFP will result in a negotiated contract. FedBizOpps (fbo.gov) is the primary source of RFPs over $25,000.
IFB
An Invitation for Bid or IFB is also known as a sealed bid. Agencies typically will not negotiate or discuss their needs once it issues their bid package. The agency will first determine which of the bidders are qualified, and then the price offered will be the most important factor in choosing the winner. It is imperative for a bidder to provide a bid that exactly matches the government's solicitation terms. The agency will reject non-responsive bids.
Sources Sought or RFI
Sources Sought or a Request for Information is a notice to potential bidders of the government's interest in specific research and development projects. This type of solicitation is sometimes used to determine the potential bidder's interest or universe for a particular procurement. It is also used as market research to determine whether or not a small business set-aside is appropriate.
Ready to stop chasing government bids? Learn how a GSA contract can cut through the red tape.