Before you start the process to extend your GSA contract for another five years, you need to understand the renewal process and begin preparing well before the official process begins.
Some basic initial steps are covered in the following two-and-a-half-minute video.
>
Summary of Key Points
Review Your GSA Contract Assessment Report
Be sure to review your most recent Assessment Report and look for any negative comments or conclusions. If you find any, be sure that these matters have been corrected and that you have communicated the corrections to your contracting officer.
Update Your Sam.gov Record
Log into your account and verify the business size by updating the company revenue and employee figures as necessary.
Ensure Your GSA Advantage Catalog is Current
If you have had any contract modifications, make sure that your GSA Advantage product catalog and authorized price list reflect those changes.
Review Your GSA Contract Provisions
Review all of your GSA contract documents. It is especially important to review:
your CSP-1 form regarding commercial discount prices,
your basis of award customer, and
the price discounts you negotiated with GSA.
Steps to Prepare for the GSA Renewal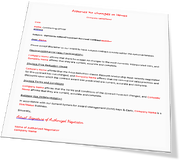 The above are just a few of the preliminary steps a renewing contractor must take. You and your team should learn more about the renewal process well before it begins. TurboGSA's just released an eLearning course that provides students with practical knowledge about:
Overview of GSA Contract Renewals
Purpose of GSA Exercising the Option
What GSA Evaluates
Documents needed for Renewal
GSA's Hot Buttons -What they really Look for
Contract Performance
Financial Stability
Compliance with pertinent laws (e.g., TAA, SCA)
We also provide a sample GSA Renewal letter template that addresses key points, saving you time. Learn more about our Renewing Your GSA Contract online elearning program.
Start Preparing Soon
Start preparing one year before your contract end date to give you time to remedy problems before GSA begins their review. GSA begins their process 250 days before the contract end date. At that time, GSA will begin evaluating your sales performance and contract performance issues. Should tehy find unresolved problems, GSA may send you a notification letting you know they will not renew your contract.
At 210 days to go, GSA will ask if you want to renew, and will send you instructions on what they want. You will have 30-45 days to respond.
Don't ignore problems. Start preparing now.