According to a report published in PC World yesterday, the large technology contractor CA was sued by the Department of Justice for failing to comply with the price reduction clause of its GSA Contract. According to DOJ, this violated the False Claims Act. CA has had a GSA Schedule contract since 2002 and last year sold $118,784,945 under its GSA IT Schedule 70 contract.
According to DOJ, CA provided incomplete and inaccurate information to GSA contracting officers during the negotiation of contract extensions, despite being required to disclose its commercial contracting practices. They also said CA also failed to update its discounting practices during the life of the GSA contract and repeatedly certified that it's discounting policies and practices had not changed, when it was actually offering larger discounts to commercial customers.
To get a GSA contract, a company must provide the government with favorable pricing that is equal to or better than the price it gives its best commercial customer for contracts of similar size, terms and conditions. Firms must disclose all discounting practices prior to contract award so that GSA can negotiate a fair and proper contract as required by federal acquisition regulations (FAR). If the firm does not disclose everything properly then trouble awaits. This does not mean that GSA will always insist on the best price (e.g., a manufacturer selling to distributors at a steep discount is often a case in point), but GSA must receive all your discounting information prior to negotiations. As the years go on, discounting practices may change and when that happens, the GSA contract must be updated to reflect those changes.
CA is not alone. Other large contractors have been sued over similar issues. Both HP and Oracle have paid millions of dollars in fines in past years. All of these could have been prevented with proper procedures, training and internal auditing in place.
How to Avoid PRC Problems
It's important that any GSA Contractor establish a compliance system that covers a variety of issues. In this case, the following procedures and practices would have mitigated the problems of the type CA encountered:
Procedure for Receiving GSA Orders
Monitor Price Reduction Clause (PRC) Issues
Train Sales Staff, especially about the Price Reduction Clause
Keep Pricing Up to Date )
See GSA Contract Compliance for more information.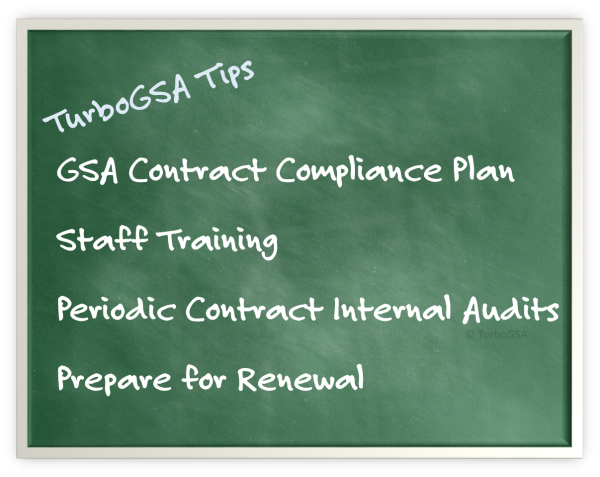 Pricing Done Right – From the start
Negotiating a GSA contract has never been more challenging as GSA has become far more adept at comparing pricing and aggressively negotiating discounts. Proper disclosure of commercial sales practices is especially challenging for firms with flexible pricing practices and multifaceted discounting practices. Disclosing incomplete or incorrect discounting data when negotiating your GSA price can be the fatal flaw that can later trigger GSA's Price Reduction Clause or other serious ramifications, as illustrated in the CA example.
Recommendations to Avoid GSA Contract Problems
TurboGSA recommends several basic steps to help you avoid such problems:
GSA Contract Compliance Plan - that you develop GSA contract compliance plan that is specific to your firm's contract and operational processes.
Staff Training – initial and periodic staff training helps prevent avoidable mistakes.
Periodic Contract Internal Audits – Conducting an audit that mimics the GSA Contract Audit, otherwise known as the CAV or contractor assistance visit that GSA periodically performs, is a great idea that helps nip issues in the bud.
Prepare for Renewal …carefully – We also recommend that you don't take the GSA contract renewal process too lightly. According to the DOJ allegations, CA should have updated their commercial sales practices at least during the renewal process, but they allegedly failed to do so.
GSA Audits or Contractor Assistance Visits were traditionally scheduled in the first year to 18 months of your contract, and then about 12-18 months before the end of the five year term. Beginning in 2014, the frequency of audits will depend on factors such as:
amount of revenues being generating
past compliance issues
agency complaints
historical problems with similar vendors and schedules
Performing your own audits a few times during each contract period may uncover issues that the procedures and training did not prevent, allowing you to take corrective actions before problems fester into major issues.
While larger firms who run afoul of the GSA Inspector General or DOJ make the headlines, smaller contractors are not immune to these issues. Diligently following the rules and putting into place good compliance practices are not that costly, especially when compared to the alternative.
by Robert Kelly
Google