Getting on the GSA schedule provides many opportunities for getting government contracts and significantly increasing revenues. A GSA contract:
Shortens the time for Agencies to issue contracts to you
Increases opportunities
Minimizes Federal contracting issues
Provides marketing cachet
Expandable to state and local governments under some circumstances.
Provides you with GSA marketing support
Small businesses account for about 65% of all GSA contract holders, and for good reason, it's the Swiss knife of federal contracts that allow you to sell to any federal agency and other related organizations. That's why the largest prime contractors usually get several GSA Schedule Contracts
But obtaining a GSA schedule contract may not be for everyone, and not everyone may qualify.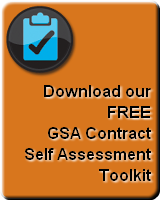 Download our FREE GSA Self Assessment Toolkit
To help you decide if obtaining a GSA contract is right for your business, our self assessment checklists helps you determine:
If getting a GSA Contract will benefit your company
Does your firm qualify for a GSA contract
Do you have the resources to properly prepare a GSA proposal
Whether your people have the knowledge and time to prepare a GSA offer or if getting expert, ethical, business savvy help is more cost effective.
How to evaluate GSA consultants.