Many firms come to us seeking to obtain a GSA contract. We always explore the reasons why a business wants to obtain a GSA contract, to make sure it makes sense for them. The most obvious reason is that small businesses are seeking to obtain more sales from Federal agencies and believe a GSA contract can help. But digging deeper, at times we find that a GSA Schedule would not be appropriate for some firms. However, we often hear many good reasons why the company is seeking a GSA contract. Here are ten reasons frequently given for why they are looking for a GSA contract.
Want to become a Prime Contractor: Firms currently in the Federal market but working for only for Primes. Wanted better control of the client (and get paid sooner).
A Federal client requested it: Firm worked for agencies for years. Now the Agency is insisting the vendor obtain a GSA contract.
Average sales over $3,500: Firm's typical order exceeding $3,500, which is over the micro-purchase threshold.
Speed up order process: GSA orders are processed quickly compared to many other procurement methods.
Placement on FedMall: Firms had sold products on FedMall (formerly DoD's eMall system), but without a Federal contract, can no longer be listed.
Access to eBuy: Firms wanted access to opportunities reserved for current GSA contract holders in eBuy.
Add value: Business used their federal contracts to support external investments and future exit strategies.
State MAS programs: A State government client asked firm to participate in its own Multiple Award Schedule program. (e.g. California's CMAS), which requires it to first get the Federal GSA contract.
Market Entry: Expanding into the Fed market but need the credibility that a GSA contract provides.
Contract Flexibility: GSA contracts are a great sales tool and provide flexibility to agencies on accessing firm's services.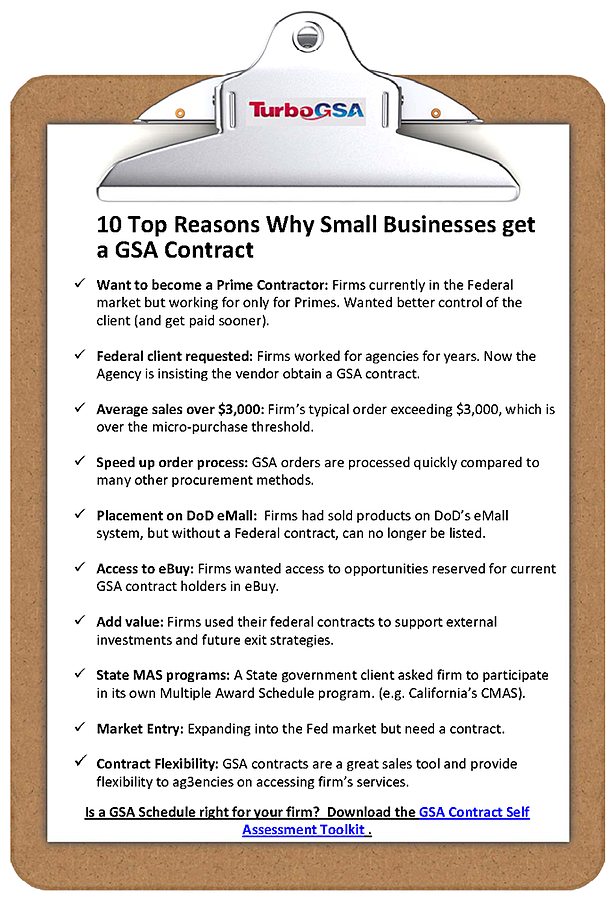 If you are exploring obtaining a GSA schedule contract, then feel free to download the above graphic in PDF format by clicking on the above graphic.
Need help in deciding if a GSA Contract is right for your firm?
Check out these free resources:
Review the GSA Schedule Game, which provides you with many of the steps you need to take in the GSA schedule process.
Register for our Free Webinar, How to Obtain a GSA Schedule Contract.
Download the free eBook:
About the Author: Robert Kelly
Robert Kelly is the President and Principal Consultant at TurboGSA, a consultancy thathelp firms expand their federal business with GSA and VA schedule contracts and improvingfederal marketing programs.