Abstract
This whiteboard session is about selling products and services that are not listed on your GSA Schedule contract.
Open Market Items
When you sell something not listed in your GSA contract, those items are referred to as Open Market items. This is simply an odd term for anything that is not previously approved and specified on your GSA contract.
You may also hear these items referred to as:
Incidental Items
Non-Contract Items
Non-Schedule Items or
Other Direct Costs (ODC's)
Can you sell items that are not listed in your GSA contract?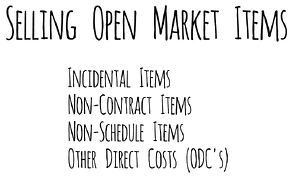 I am often asked if contractors can sell items that are not listed in their GSA contract. New contractors, in particular, often experience problems with the GSA auditors if they do not manage this correctly.
Open market items may be sold to Agencies under a GSA Contract order, as long the GSA contractor clearly tells the customer that the items are open market. This is very important due to differing acquisition regulations for Federal Supply Schedule procurements versus open market procurements.
Be sure to tell your sales people and others who are involved in proposals, quotes and invoicing about the rules of adding open market items to GSA orders.
How to Communicate Open Market Items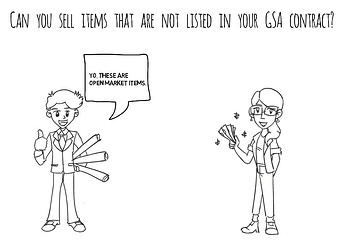 So how should you tell customers that open market items are part of your quote or order prior to the sale. Communicate this to your customer by providing:
a written

quote

that simply states the term "Open Market Item" after each item and
then add this statement to invoice that are sent to the customer .
Some government buyers may get a bit nervous about accepting proposals containing open market items. Therefore, any proposal, letter, or email should state: "This quote or invoice contains open market items which have been properly identified. Open market items are allowed as stated in FAR 8.402(f)"
Do Not Quote Open Market Items on eBuy Opportunities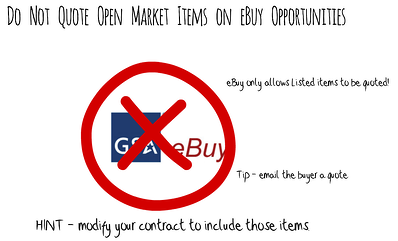 I am asked if firms can quote open market items in response to RFQs found on ebuy. One thing to keep in mind is that you cannot quote Open Market Items on eBuy Opportunities, because eBuy has different rules on open market items. eBuy only allows scheduled contract items to be quoted.
But here's a tip. If you see an eBuy opportunity that contains items you could deliver but are not on your contract, then simply email the buyer a quote. The buyer may still choose to go with a vendor that already has all the items on their GSA contract, but it's not unheard of for a buyer to accept an unsolicited offer.
HINT - If you keep seeing items being requested that are not on your schedule, then modify your contract to include those items.
Do not report Open Market Sales on your Quarterly Sales Report
One final note. GSA Schedule contractors should NOT include the value of open market items when completing the quarterly 72a sales report. You only need to report the total sales of contract items.
Presenter: Robert Kelly - Founder, Principal Consultant - TurboGSA
Robert helps firms expand their Federal business through innovative federal marketing programs and GSA Schedule contracts. Roebrt has worked with more than 500 clietns over the years to enter and grow their presence in teh federal market.
Need help with GSA Compliance?
If you need help with GSA contract compliance or developing federal marketing strategies, please give me a call
If you have any questions, please call Robert Kellyat 866-291-5238 ext. 705
Google