Updated February 27, 2014
Stop Chasing

RFPs

; Focus on Deal Creation
Any number of emerging government contractors call asking about the best way to find RFPs and which government RFP database/bid identification tool they should subscribe to. They askif they should get on the GSA schedule and what opportunities they might findon eBuy Should they optimize their search agents in FedBizOpps to get more RFP notices. They also ask about the value of subscribing to Deltek's Input (http://govwin.com/), Onvia (www.onvia.gov) orePipeline (http://epipeline.com/). These are good tools but expensive for many small businesses. EZGovOpps is a good tool that is far less expensive (http://ezgovopps.com/). Some services also include state and local contract opportunities in addition to federal contracts.
The purpose of this article is not to evaluate or recommend RFP tools, but rather to make the point that most firms should focus on deal creation and not chase RFPs.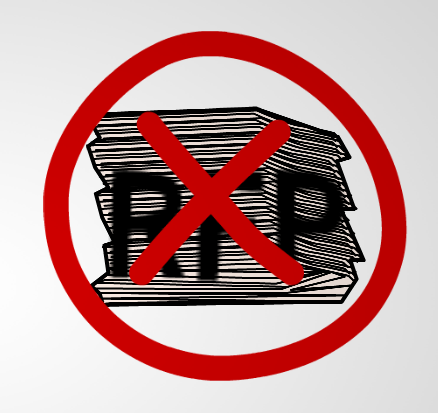 Why you should Avoid Searching for more Government RFP Opportunities
While all these tools can be invaluable IF USED APPROPRIATELY, such conversations always beg the question, why would you want more RFPs? Seriously! If an RFP is already out on the street, then the bulk of an agency's solution has already been defined and one or more of your competitors very likely helped define both the problem and the solution. It is equally likely that the requested solution is aligned with unique aspects of your competitor's solution. Two old adages worthy of repeating: "Whoever defines the problem best most likely wins the job" and "if the first time you saw an RFP was when it appeared on FedBizOpps, then it's too late." [When I originally heard this second adage back in the 1980s, it referenced CBD, not FBO.]
Consider this example. Let's say you are an office space designer and you employ the latest interior design, lighting, and furniture solutions to deliver an efficient office environment. You receive an RFP from an agency that states that they want to redesign their workspace in order to improve employee morale. You do a little research and find that the agency in fact had an employee morale problem and that the manager had read an article by one of your competitors that explained how changes in office design might improve morale. Setting aside the fact that the real problem might have been rooted elsewhere, such as poor leadership or bad compensation policies, you are in the business of workspace design so you go along with it.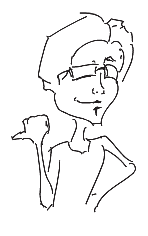 What is troublesome for your chances, though, is the fact that the agency manger was influenced by one of your competitors that you bump heads with all the time. Your read the statement of work and it is obvious that it incorporates all of your competitor's unique approaches and plays to their strengths. How are you going to compete with them? The RFP has been issued and you have no opportunity to talk with the manager and your ability to suggest alternatives to the underlying solution is very limited.
Are you Letting Competitors define the Problem?
One company told me that they were so busy writing proposals that they did not have time for marketing to agencies. "After all, why market if we already have enough RFP opportunities filling our pipeline?" he asked. This firm was certainly a player in their market, but a relatively small player. Their competitors were implementing robust content marketing programs and had business developers out talking to agencies and defining solutions to agency problems well before any statements of work were ever prepared.
More

RFPs

Don't always Result in More Sales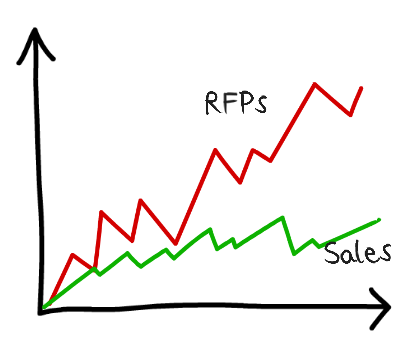 Not surprisingly, this firm's win rate was quite low. Ironically, they seemed satisfied because by responding to the RFP's, all of their leads were towards the bottom of the sales funnel. After all, wasn't the purpose of marketing to drive leads down the funnel to the RFP stage?
They were so busy chasing RFPs, they didn't realize that simply having leads near the bottom of their sales funnel was actually a bad thing. They would have had a far higher win rate if they had diverted some resources from low probability proposal writing into other activities such as:
Developing a strategic federal marketing plan,
Truly differentiatingtheir firm
Implementing a federal content marketing programs, and
Allocating time for business development efforts far earlier in the sales cycle to influence solution design.
Small firms often mistakenly believe that they do not have the resources to plan a strategy, implement content/inbound marketing or get out and have meaningful conversations with customers. Meanwhile they spend inordinate amounts of time and B&P money writing proposals and wondering why they aren't driving more revenues.
Some key takeaways:
Tools such as Deltek, ePipeline, or EZGovOpps can yield tremendous benefits but only if implemented as part of a sound federal marketing strategy.
You should have criteria in place for deciding on whether or not you should respond to every RFP you find.
You are a small business so you don't have a lot of federal business developers running around. Talk with us so that you can leverage your expertise to get found by agencies seeking unique perspectives and solutions to their problems.
by Robert Kelly Google