The General Services Administration (GSA) encourages businesses to apply for GSA contracts, especially small businesses. The Federal government benefits from having many diverse businesses participating in the GSA Schedules program. While the government welcomes responsible companies into the federal procurement process, they insist on discipline and compliance.
To this end, it reserves the right to cancel schedule contracts it deems
unproductive or
underperforming
With increasing regularity, GSA is invoking this right. Therefore, GSA contractors need to ensure, now more than ever, that their performance complies with the precise terms of their GSA schedule contracts lest they risk cancellation. In 2012, GSA created a team to actively seek out contractors not meeting sales goals and canceling their contract.
GSA Contract Cancellation Policy
Under clause GSAR 552.238-73 ("Cancellation"), GSA can cancel any GSA schedule contract if it deems the agreement unproductive. This clause, in and of itself, is no cause for panic; however if your GSA schedule contract has garnered fewer sales for your business than originally anticipated, it might be time to formulate an action plan.
GSA Minimum Sales Criteria
At the core of this issue is the GSA's threshold for productivity, which is expressed in clause I-FSS-639 of your contract schedule, titled "Minimum Sales Criteria." This clause states that all Multiple Award Schedule contracts require a minimum of $25,000 in sales during the first two years, and a minimum of $25,000 each year thereafter. This Minimum Sales Criteria clause is not new, but it is receiving unprecedented attention.
In the past, under performance on this dollar figure metric was less likely to result in outright contract cancellation but it might be held against you when it came time to renew your schedule contract. Presently, however, the GSA is making a concerted effort to reduce its costs spent on administering contracts with low, or no sales.
If your company is struggling to meet these thresholds you may have already received a low sales notification from your GSA Administrative Contracting Officer.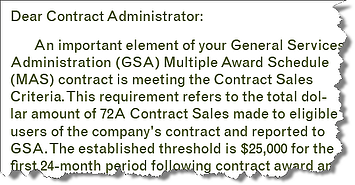 The Federal Acquisition Service's Supplier Management Division has been working over the past year to alert supplier firms with low sales figures of the risk of cancellation. If your business has received this notification, I suggest an immediate focus on increasing your company's exposure to federal agencies ordering from GSA MAS contracts using some of the tools listed below. This increased exposure can help get your sales figures back on track.
If your business has not received this notification, you might not be out of the woods just yet. Firstly, this notification was only sent to companies who had fallen off pace of fulfilling the first 24 month sales minimum by the one year anniversary of their contract award. Therefore, if your GSA contract is either newer or older than one year, you cannot rely on a GSA notification to alert you of a cancellation risk. Furthermore, if your firm only just made the 24 month requirement, or was allowed to slip through under the older relaxed enforcement, the 3rd, 4th, and 5th year requirements are going to present an even greater challenge. Finally, even if your firm is exceeding these sales minimums on its GSA contract, the following suggestions could help you use increase GSA sales.
GSA contract holders at risk of contract cancellation should use the following tools to help increase the business's exposure to government buyers.
Ensure your firm's current contract price list is accurate and up-to-date in GSA Advantage! .
Continue to monitor opportunities posted on eBuy.
Continue to check FedBizOpps.gov. Determine what agencies are buying your type of products and services and reach out to them. Agencies may switch their procurement to a Schedule buy.
Look at the Federal Procurement Data System (www.fpds.gov/fpdsng_cms/). FPDS offers information that can be used to identify new agencies, departments or offices that use the products or services you offer.
Consider taking our GSA Sales Course
These basic tools can help you find, and gain exposure to the government entities that need the goods or services your business provides. But you should then look to create an innovative Federal marketing strategy that attracts federal clients to you. There are many more sophisticated and techniques that can be employed to get you noticed.
So, as we move into this new year remember that the GSA expects you to sell $25,000 worth of goods or services in the first 24 months of your contract, and another $25,000 during each of the following three 12 month periods. If you fail to meet these minimums you can expect a cancellation of your contract.
Furthermore, if you feel your business could use a big boost in government sales in general, or at a minimum to avoid losing your contract, now may be the time to implement more advanced government marketing techniques. For more information on the basics of Federal marketing, download my free eGuide titled "Marketing to the Federal Government" Or to discuss more sophisticated techniques to attract federal clients, please contact us.
Other Reasons for Why GSA Cancels GSA Schedule Contracts
Non compliance with key terms and conditions of your GSA contract may also result in a cancellation, so be sure your team understands contract compliance provisions. Our Avoiding GSA Contract Audit Problems course is a god place to start.