Do any of these thoughts ever cross your mind?
I respond to RFP's I find on FedBizOpps but haven't won anything.
I have a GSA contract but I never win responding to eBuy requests.
You have to know someone in an agency before you can get a contract.
To win at government contracting, you need to be located near Washington, DC
Are these facts of life or merely the result of not employing the best marketing strategies?
In my 30 years of involvement in government and federal marketing, I have come to believe in two key business development principals:
Establish trust and credibility at the beginning of a business relationship by sharing valuable information and advice.
Submit a proposal only after you have established credibility and trust.
Whether you sell professional services or complex product solutions, establishing credibility and trust is essential. Providing prospective clients with insight and answers to all their upfront questions is central to accomplishing this. If you go beyond the simple answers, providing some insight into their problems and sharing some stories about similar problems you have solved in the past, prospects will be receptive to learning about your solutions and you are well on your way to closing a deal.
So it is no surprise to me that firms who simply respond to RFP's on FedBizOpps and eBuy fail to win. They haven't built credibility, or even awareness, with the client beforehand. Often, the Agency reviewers are learning about the firm for the first time by reading the proposal, and it is very likely that the winners have already built credibility with the agency. So now you may be thinking, so it's true, we must know someone or be located near DC to win in order to build awareness.
Not at all. Only 22% of all contract dollars went to firms based in DC, Maryland and Virginia. Certainly, firms based elsewhere also have offices in the DC area, but a significant amount of the $536 Billion in 2010 contract dollars went to firms outside the Washington area (more on Federal sales). This demonstrates that you can win even if you are not a DC Beltway insider. So what is an "outsider" to do?
Employing traditional marketing techniques such as direct mail and telemarketing have limited value in generating leads let alone establishing relationships, trust or credibility. And they are becoming less effective as organizations build up defenses to prevent those messages from getting through. Trade shows and networking events can be effective depending on how active you are in the event, but these can be quite costly. And all of these expenditures have one time benefit without much residual benefit. Traditional marketing also requires you to bother customers, interrupting their day to take the call, read and delete the email, and going through a over-stuffed inbox.
Instead, firms should consider adding an inbound marketing component to their federal marketing strategy. Inbound marketing employs many web based techniques in an integrated way designed to attract federal clients to your web site and generate lead information. This is often more effective because it invites clients to start a relationship. Inbound marketing expenditures also have long term residual effects as the content resides on the internet forever to be found long after the campaign launches.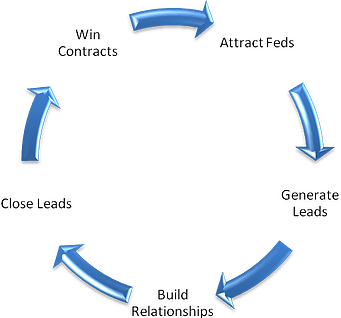 If you are struggling to generate federal leads and develop relationships with federal agencies, consider adopting inbound marketing techniques. You will soon begin generating far more leads and building credibility so that your proposal efforts start paying off.
Other Related Articles