Hiring a consultant to help you through the GSA contract process is an excellent idea, but what happens after you get the contract? Can that same consultant help you through an audit or an extension? Can they help you find new government customers? You should find answers to these questions before you engage with a qualified GSA consultant.
What to Look for in a GSA Consultant
If you want a consultant who provides comprehensive GSA schedule services (if you're new to the GSA process, you definitely do), ask prospective service providers if they offer the following:
Contract Procurement - Although this is just the first step in the process, it is one of the most cumbersome. Not only do you need to properly fill out reams of paperwork, you need to make strategic decisions about how you present your products or services. Look for a firm that will provide you with regular access to their top advisors, not just to junior level associates who are qualified to process applications.
Contract Management - After you gain GSA approval, you still need to jump through a lot of hoops to stay in compliance. Finding a consultant who offers these extended GSA schedule services will save you a lot of time and money in the long run. Not only will your consultant already be familiar with the contract, they have the experience to recognize when you need to update your contract. A GSA contract is not a static event; any time you make changes in pricing, personnel, or service offerings, you need to update your paperwork. Having a professional review your contract on an annual basis is an efficient and cost-effective way to maintain compliance.
Audit Preparation - Although the word "audit" causes most people to respond with a shudder, they are a fairly common occurrence with GSA contracts. In fact, if you have a GSA contract, you are guaranteed to be audited. If your consultant includes audit preparation as part of their GSA schedule services, you will only benefit. Because they know they will be involved in the audit process, they are more invested in the original contract setup and ongoing contract maintenance, which means you get great service from day one.
Marketing Services - The federal government is not your average client. Traditional sales approaches do not generally work in the GSA environment, so if you are new to this market, you'll want an expert on your side. Whether you need to develop a government marketing strategy, assess the federal market, or hire a coach to train your sales staff on the specifics of GSA contracts, the most efficient way to increase government revenue as soon as possible is to work with a consultant who has been through the process before.
Watch Out for False Claims
When it comes to properly executing GSA contracts, the stakes are high. If you are not in compliance and your audit does not go well, the penalties can be quite costly. On the other hand, if you work with a qualified consultant who offers comprehensive GSA schedule services, you have the potential to substantially increase your revenue.

There is no shortage of GSA consultants who claim they can expedite a contract, guarantee success, or make a certain amount of sales in a brief time period. Like any major investment you make, you want to be sure your GSA consultant is reliable, produces quality results, and will be there for you if problems do arise.

If you think your company is ready to start the GSA process, download our free checklist, which also includes guidelines for choosing a GSA contractor.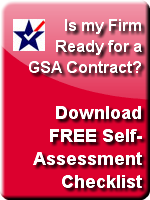 About the Author: Robert Kelly
Robert Kelly is the President and Principal Consultant at TurboGSA, a consultancy thathelp firms expand their federal business with GSA and VA schedule contracts and improvingfederal marketing programs.
Google+