Since 2009, thousands of small businesses have weathered the economic storm by taking advantage of federal programs designed to channel federal contracts to small firms. Two of the more valuable programs include the GSA schedule program and the Simplified Acquisition Procedure program.
As the following chart depicts, these two programs alone represent about one-third the total small business contract dollars (the other two thirds are from highly competitive IDIQ's and open competitions available through fbo.gov). GSA Schedules are an important vehicle for small businesses, while opportunities under the simplified acquisition procedure have been growing in recent years. The chart depicts federal contract sales for small businesses from 2007 through 2012(est.).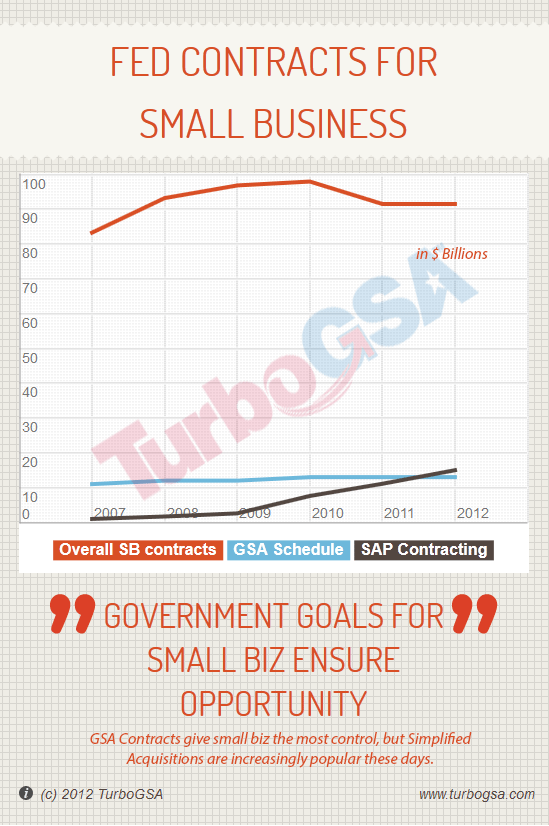 About Simplified Acquisitions Procedures
The Simplified Acquisition Procedure (SAP) was established by the Federal government to foster additional business opportunities for small business concerns in government contracting. The purpose of the simplified acquisition procedures is to:
Reduce administrative costs;
Improve opportunities for small business concerns to obtain a fair proportion of Government contracts;
Promote efficiency and economy in contracting; and
Avoid unnecessary burdens for agencies and contractors.
SAP mandates that any contracts between $10,000 and $250,000 (updated January 1, 2018) that are not placed under GSA or VA federal supply schedules or another IDIQ, be set aside for small businesses. SAP covers all industries. The RFQ requirements are less burdensome than traditional federal procurements, making proposal writing far simpler.
Growth of SAP
Due to pressure on agencies to meet mandatory small business contracting goals, the SAP program has grown significantly and is expected to reach $15 billion in sales this year.
Succeeding in this program requires constant diligence to identify opportunities and respond to appropriately targeted opportunities in a timely fashion. We will be publishing more tips about the SAP program in coming weeks, so subscribe to our blog to be notified of new articles when they are published.
GSA Contracts – A Great Tool for Small Business
GSA contracts have been one of the government's more successful tools for getting contract dollars into the hands of small businesses. While the government's goal is to ensure that 23% of prime contracts are awarded to small businesses, about 34% of GSA schedule sales are awarded to small businesses!
A GSA contract remains an important tool in the federal marketing toolbox of many small businesses. While SAP and other opportunities are open to the entire small business world, GSA opportunities are limited to GSA Schedule contractors and GSA vendors have more control over their own destiny.
Outlook for GSA Schedules and SAP Sales for Small Business
While federal contracting is under stress due to budget deficits, the opportunities remain significant and small businesses that understand and commit to government marketing can do quite well. The SAP program has grown significantly in popularity among federal contracting officers, and has caught up with the GSA Schedule program. TurboGSA expects the SAP program to continue this growth.
As for GSA schedules, the program remains an essential government marketing tool. It provides the small business contractor with greater flexibility and control over their own destiny, making it easier than many other programs, including SAP, to get contracts awarded. TurboGSA expects that recent rule changes allowing contracting officers to issue set-aside RFQs for small businesses, will boost GSA schedule sales to small business.
About the Author: Robert Kelly
Robert Kelly is the President and Principal Consultant at TurboGSA, a consultancy that help firms expand their federal business with GSA and VA schedule contracts and improving federal marketing programs.
Google+