What you may have missed if you were on Vacation
Hopefully you have been enjoying some time off this summer and if so, you probably missed some important news and stories. Here is a recap of some of the more interesting items you may have missed.
A new report is taking a look at federal management reform with fresh eyes, using the private enterprise as inspiration. It is meant as a directive for agency leaders and the administration seeking to eliminate waste, overlap and unnecessary spending. The government should conduct itself more like an enterprise, the report reads.
Government agencies have recently announced cutbacks to their participation in conferences. Some of these cutbacks stem from abuses by GSA and VA who spent excessively on needless conferences and offended congress and taxpayers alike. But abusive spending is not the only reason for such cutbacks, as witnessed by the Army's recent announcement that its personnel could only attend DoD sponsored events. With tightening budgets, agencies are learning how to do more with less money. Secretary of the Army John McHugh explained, "We must continue to implement more cost effective and efficient methods to train, plan, collaborate and disseminate information.
When the owner of a company says "business has been pretty 'flat,'" in a single word, he/she conveys a lack of change in gross revenue, net profit, the size or number of customers, and the number of employees. You can just imagine the graphs and charts being reviewed at their company meetings.
How long must the numbers be flat to constitute a plateau? Since a plateau is company-specific, flat numbers simply need to last longer for that company than industry averages for comparably sized businesses to constitute a plateau.
While not being overly bullish, author Gene Marks writes if you're running a small- or medium-sized business, you will likely have an OK year in 2013. Tthe overall picture of the U.S. economy remains one of exasperatingly slow recovery from the Great Recession" but even so, the big four indicators continue to rise.

While RFP opportunity tools can be invaluable IF USED APPROPRIATELY, they beg the question, why would you want more RFPs? Seriously! If an RFP is already out there, then the bulk of an agency's solution has already been defined and one of your competitors very likely helped define both the problem and the solution.
Federal agencies have seen progress in the last year with managing their records, but challenges persist, according to a new report by the National Archives and Records Administration. This year, 20 percent of agencies scored low risk, 44 percent moderate risk and 36 percent high risk. According to these results, the number of agencies scoring in low risk has increased.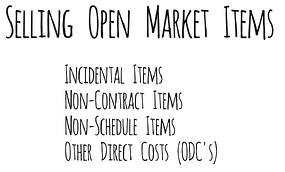 When you sell something not listed in your GSA contract, those items are referred to as Open Market items. This is simply a term for anything that is not previously approved and specified on your GSA contract. I am often asked if contractors can sell items that are not listed in their GSA contract. New contractors, in particular, often experience problems with the GSA auditors if they do not manage this correctly.
Video - CTO Mark White talks about how technology helps government achieve its mission in this FedScoopTV interview.
The Senate Appropriations Defense Subcommittee passed a $594 billion defense spending bill. The legislation seeks to restore the readiness of combat units amid sequestration. It includes $516.4 billion for the Defense Department's base budget and $77.8 billion for overseas contingency operations, including the war in Afghanistan, in the fiscal year beginning Oct. 1. The White House has threatened to veto the House's version of the defense spending bill.