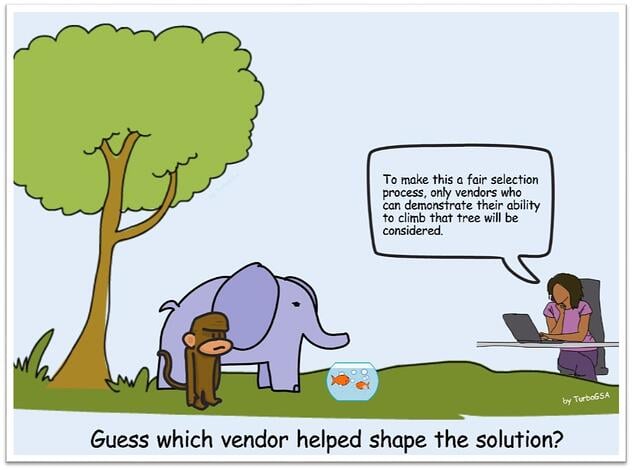 Have you ever thought this? You have a great solution to an agency's problem, but the solicitation contains a few odd requirements. And maybe the language suggests it is wired for someone else. It's not necessarily for any underhanded reason, such as an agency trying to steer the job to a particular vendor. Often, it is simply because the agency has already talked to another firm's representatives and incorporated some of their ideas.
The problem is not that agencies listen to some vendors, it's that too many firms do not enter the game earlier in the procurement process. When vendors are on top of their game and talk to agencies early, it's inevitable that their ideas find their way into the agency's buying vision.
Many firms rely solely on responding to publicly announced RFPs. Rather than trying to get into agencies, they sit in the office and sift through RFPs and RFQs on government websites like eBuy and FedBizOpps, or more sophisticated systems offered by private firms like Deltek and EZGovOpps.
When It's Too Late
This is an age old problem for federal business developers. Even before the internet, junior business developers would scour CBD (Commerce Business Daily) listings looking for that ideal opportunity. The sage business developers would say, "If the first time you hear about an RFP is when you see it in CBD, it's too late." That remains true today (although now the saying is, "If the first time you hear about an RFP is when you see it in FedBizOpps, it's too late.").
It's not that you cannot win such a bid, but the odds are against you. The odds favor those firms that have been in talking with the agency, especially those that helped define the problem and establish the agency buying vision.
Get Involved in Agency Programs Earlier
When firms focus on published RFPs, they miss the opportunity to contribute to the solution's design and establish credibility with agency personnel. This is why so many experts recommend that you network more. Networking is more than just glad-handing at industry events. Rather, it is to get invited in to the agency to talk. This will give you the chance to convey your unique perspective on agency challenges and compel theagency to consider different ways to overcome their problems.
Selling to Agencies is Complex
You need to understand that selling solutions to the agencies is a complex process. It is complex because it involves many players, all with their own interests and needs. By talking to different agency personnel, you will better appreciate their needs and address them in your proposal. It's also complex because of the government's difficult regulatory requirements and the intricacies of agency missions.
The earlier you get in, the more likely it is that you can help them identify problems and define its magnitude and severity. The firm that can best define the problem is often best positioned to be trusted when suggesting solutions. This helps establish the agency buying vision.
Video: Establish the Agency Buying Vision
Watch this 5-minute video to learn more about the buyers involvement in the agency procurement process and how to help an agency establish its buying vision, well before the details of the acquisition strategy are even contemplated.