I received a call from a woman who told me she and her husband were starting a business and they would organize as a women owned small business (WOSB). I won't say what line of business they were in, because they seemed to have a unique niche scoped out and they may enjoy a first mover advantage. I think they are on to something, but they were really in the very early stages of development.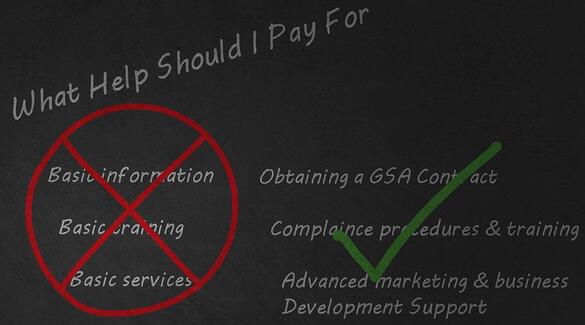 The purpose of her call was to inquire about getting a GSA contract for the firm. I began discussing the GSA requirements and asked her why she had thought she should be going after a GSA contract so early in her firm's development. Turns out she had received a call from one of those infamous telemarketers telling her how she was in a perfect position to go after government contracts. This was following a "free federal qualification process evaluation" which turned out to be an extensive sales qualification process. Amazingly, it turns out she was in a prime position to enter the federal market and get a GSA contract.
You want Me to Pay for What?
Of course the next step, according to the smooth talking sales person, was to start enrolling and registering in certain programs. For just a low fee (which eventually became a series of low and moderate fees) the salesman's firm could:
"Enroll" her firm in the Simplified Acquisition Program." Wait, what? What the hell are these people talking about? Yes SAP exists, but there is no program enrollment necessary.
Take care of registering her firm in Sam.gov – Aside from seriously overstating the implications of unintentional errors in a SAM registration, this service mostly entailed "registration" firm re-inputting her information after she filled out a lengthy form that she could have keyed in herself. What little she might not understand in completing a SAM registration is explained on the web sites help section
A list of contracting officers to contact – for those who had bought her services/products in the past – names harvested from fbo.gov
Establishing a free account in fbo.gov
And for a much more significant fee, get her a GSA contract – despite the fact that her firm was too new to qualify for a GSA contract and had only minimal sales in recent months.
Better Alternative Pick and Choose what Services You Pay for
I explained to her that most of the basic programs they were asking money for, could be completed on her own with just a little bit of effort and taking time to learn the programs. Sure, not everyone likes to put in this effort and many prefer a little handholding. But I explained that while many reputable consulting firms could do this for them, it wouldn't be worth the fee and frankly, she would miss out on learning the basics and some important contracting concepts. Therefore, I recommend any contractor who is new to the federal market begin by taking advantage of free government programs.
SBA
The Small Business Administration offers a variety of online information about federal contracting. They also offer Federal Contracting 101 course. I recommend new businesses review this information before paying a dime for any services.
PTACs and SDBC
For her (and any small businesses who are new to the federal market), I strongly recommended that she begin the process by seeking guidance at her local Small Business Development Center and Procurement technical Assessment Center. They offer both free training programs, and some level of advisory services that more than exceed what this woman would have gotten with the paid services outlined above. They also offer free "Bidmatch" services which are good for some firms to use. Find a center near you at this SBA PTAC website.
So when do Consultants Add Value?
While the SBDC/PTAC offerings are great, most firms will outgrow them and experienced marketing and business development firms can help a firm get to the next level.
Should you decide that a GSA contract would enhance your chances for succeeding in the federal market, using a reputable GSA consultant can be advantageous because of the complexity of the program. We've been through the ringer not once, not twice but hundreds of time. Our GSA preparation service provides you convenience, time savings but more importantly the wisdom to negotiate a compliant contract that will enable you to better compete for federal contract dollars.
Beyond negotiating a compliant contract, our overriding goal is on helping you succeed and we offer marketing and business development support services to position you win federal contracts.